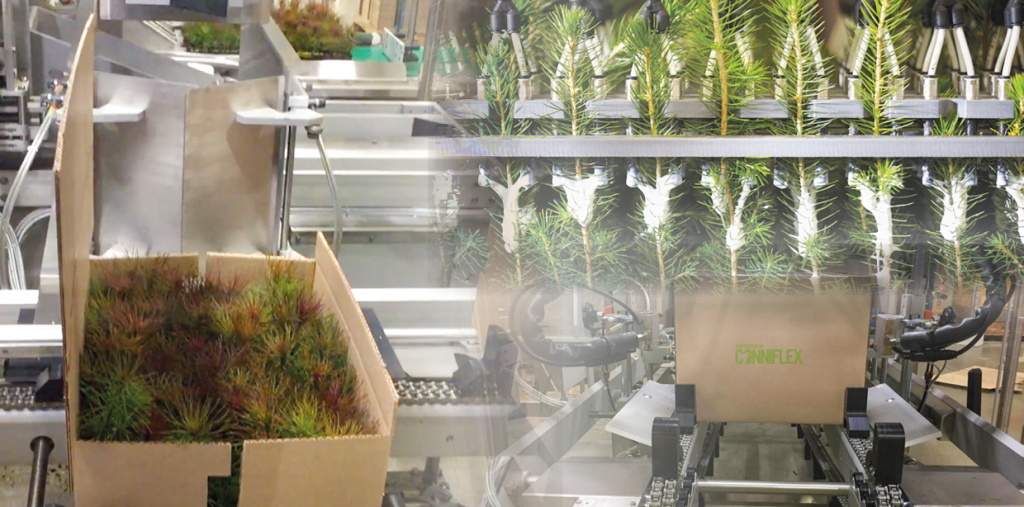 There is great demand among customers around the world to make the packaging process for forest seedlings more efficient. As part of a packaging automation initiative for the forest industry, Stora Enso and BCC have now entered into a partnership. Initially covering the Nordics and Baltics, the aim is to include other market areas moving forward.
Planting the planet has never been as important as it is today. How to make forest regeneration more efficient? This is a question that BCC has been working on in cooperation with the Renewable Materials Company Stora Enso and their packaging experts. Moving seedlings from nurseries to planting sites requires packaging, and with speedy packaging automation and eco-friendly renewable packaging this has been made faster and more efficient than ever.
Stora Enso's Packaging Automation division has developed a fully automated packaging machine for forest seedlings. Efficient, ergonomic and safe for operators to use, the new machine has enabled many Stora Enso customers to double their production capacity. In addition, Stora Enso offers renewable corrugated board boxes for packing the seedlings, rather than using existing plastic solutions.
BCC is one of the world's leading manufacturers and providers of automation equipment for nurseries, with a wide product portfolio in the production of seeds, cuttings and covered-root seedlings. The company is also behind the development of Conniflex – an effective, eco-friendly stem coating that protects seedlings against pine weevils.
"Stora Enso's extensive experience in packaging automation and sustainable corrugated packaging will bolster our total offering to customers. The partnership strengthens BCC's concept solutions for nursery systems, and is in line with the company's fully automated system solutions," says Torsten Karlsson, CEO of BCC.
"We are delighted to be working with BCC. Their far-reaching expertise in seed and cutting production, combined with Stora Enso's packaging automation and in-depth knowledge of corrugated packaging, will enable us to meet future challenges together and create even better solutions for nurseries across Europe," says Thomas Sundling, Manager of Stora Enso Packaging Automation.
For further information about the partnership, please contact:
Torsten Karlsson
CEO, BCC AB
+46 (0)705 349920
torsten.karlsson@bccab.se
Thomas Sundling
Stora Enso Packaging Automation
+46 (0)70-204 04 07
thomas.sundling@storaenso.com